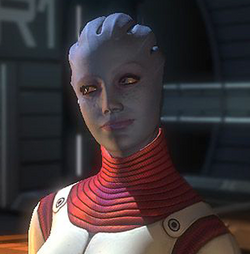 A mono-gender race—distinctly feminine in appearance—the asari are known for their elegance, diplomacy, and biotic talent. Their millennia-long lifespan and unique physiology—allowing them to reproduce with a partner of any gender or species—give them a conservative but convivial attitude toward other races.
Asari Characteristics: +2 Cha +2 Wis -2 Str -2 Con (the asari are a well versed race known for their stunning beauty, not their combat prowess)
Natural Biotics: Asari automatically gain the Biotic Potential Feat
Mind Meld: Asari can share images and thoughts with any willing creature they touch.